A new coffee-table book celebrates the revival of a world-class venue.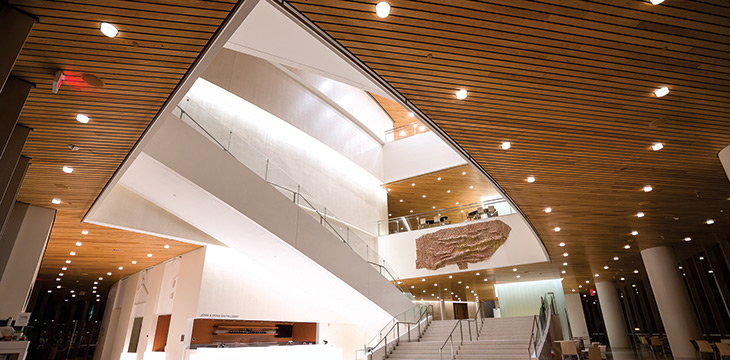 PHOTO: Bill Adams
The lobby and staircase inside Hancher, as pictured in the new book, Hancher: The Building.
As far as drama and spectacle go, Hancherís own story rivals that of any of the shows staged at the auditorium since its grand opening a little more than a year ago.
First there was tragedy, then years of trials and tribulations, and at last, triumph.
The rebirth of the world-renowned University of Iowa performing arts center after the floods of 2008 is the subject of a new coffee-table book, which is on sale this holiday season at the auditorium. Hancher: The Building is a 96-page, behind-the-curtain look at the people who kept the organization afloat in its eight years without a home, the construction crews who realized the new beacon for the arts along the Iowa River, and the milestones between the devastating flood and the star-studded opening night gala in 2016.
Writer Jean Florman, director of the UI Center for Teaching and the author of Hancherís 30th anniversary book in 2002, returned to pen Hancherís latest chapters. She profiles everyone from electricians and site foremen, to stage managers and sound specialists, to patrons and volunteers. She reveals the story behind the auditoriumís one-of-a-kind Steinway piano and details the buildingís unique architecture and artwork.
Ron McClellen (69BA), Hancherís longtime art design director, designed the book, and Julie Scott, a retired member of Hancherís original team, served as its editor. Striking images from photographer Bill Adams (03BBA) detail Hancherís slow rise from a crater next to the Levitt Center for University Advancement to a dazzling monument for the arts.
Chuck Swanson (75BBA, 76MBA), Hancherís longtime executive director, says the book preserves the memories and stories that emerged during the construction process. Writes Swanson in the forward: ďEveryone who was a part of this project spoke about their involvement as a once-in-a-lifetime experience. There was such a spirit of comradery, pride, passion, and dedication.Ē
Hancher: The Building sells for $50 and is available in the Hancher Showcase shop.